Some interesting / funny pieces of elemental art by Yoko Ono are currently on display in Beijing at the Faurschou Foundation.
… Based on verbal or written instructions that are utopian, ephemeral and performable, Yoko Ono presents viewers with art which becomes a shared mental or physical experience.

The exhibition begins outdoor with a Wish Tree garden, planted with "Three Friends of Winter"—pine, bamboo and plum trees, symbolizing steadfastness, perseverance and resilience. Specially dedicated to the show in Beijing is Golden Ladders, another participatory concept. Here viewers are invited to bring their own gold coloured ladders of any size, shape and material to join the installation, in which 7 ladders gilded with pure gold leaf are already installed.
Yoko Ono, To see the Sky, 2015, at the MOMA
To See The Sky, a new work first exhibited earlier in 2015 at The Museum of Modern Art in New York, sends out a message that the journey to the light is accompanied by danger. Visitors who are attracted to climb up to the top of the spiral staircase will soon realize the staircase starts to get shaky, and makes it difficult to focus on gazing up at the sky. When the moment of emancipation and freedom comes, it is an enlightening experience.
Yoko Ono, Air Dispenser, 1971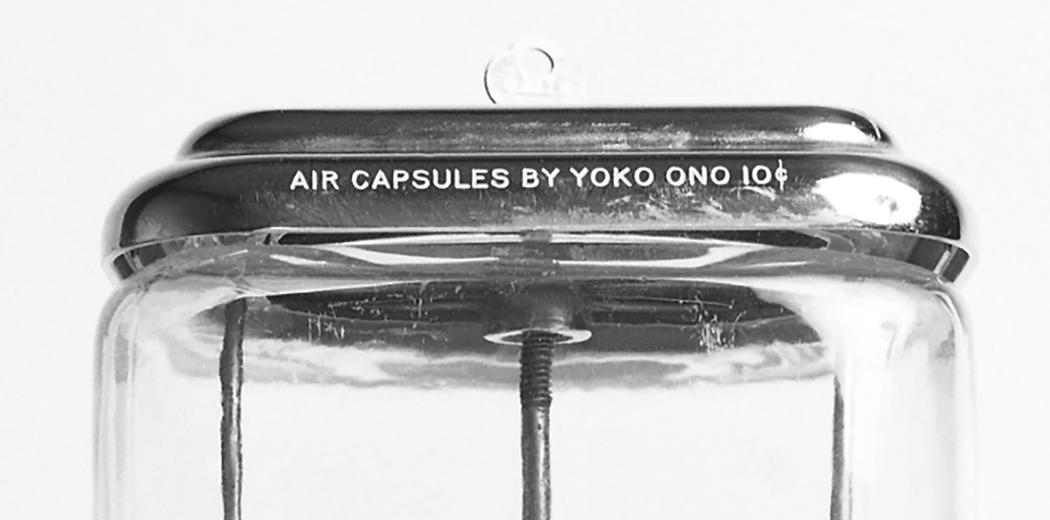 Yoko Ono, Air Dispenser, 1971. Photo: Iain Macmillan
We are all breathing the same air and we are all connected to the world by air (Yoko Ono)
Yoko Ono, For Half-A-Wind Show, Davis Museum Version, Davis Lisboa Mini-Museum Barcelona, 2006 and 2014
you are water
I'm water
we're all water in diffe­rent contai­ners
that's why it's so easy to meet
some­day we'll evapo­rate toge­ther
but even after the water's gone
we'll probably point out to the contai­ners 
and say, "that's me there, that one." 
we're contai­ner minders
(Yoko Ono, We are all Water)